Maureen is the first person you hear when you call our company, and the first person you see when you enter our office.  From answering the phones to updating our claims database, she keeps us organized and on top of things.  Always willing to lend a hand with our claims, Maureen is definitely an essential worker!
What was the last concert you went to?
Guns n Roses. Slash was there!
What was your first real job?
In high school, I worked part-time for a secretary – I basically did copying and filing. Later on, I became a court reporter – a stenographer. That was interesting work. I worked on a lot of depositions, as opposed to being in a courtroom during trials. Even during depositions, though, it could get contentious.
How did you find SMW?
I was here at SMW working as a stenographer at a Reference hearing involving Bruce Swerling. One day, Diane asked me if I knew anyone looking for a job doing front office work. I didn't, but I asked for a job description so I could ask around. I went home, read the description and thought: I can do most of that stuff. So, I talked to Diane, we liked each other, and I took the leap. It has been 12 years now – I'm glad I did.
Who trained you at SMW?
Diane trained me. She sat with me and took the time to teach me everything I needed to know.
What's your favorite part of the job?
My co-workers – I love them. Everybody here has a little something different. They're smart and funny – every one of them. This is a dysfunctional family in the best possible way.
What's the most challenging part of the job?
I'd say the hardest part is just keeping everything going. I have everybody coming at me, so keeping everything flowing in a timely manner can be challenging. I have to learn new things all the time, which I like. We're constantly striving to do things better.
What's a memorable office experience?
Right now, we are in weird times. In the first few weeks of COVID, Diane had shut the office down but Dayle, Paul & I were still coming in to get things done. The day that Governor Baker announced that offices were to close, Dayle and I were in the office. We danced and sang along to "Last Dance" like it was our swan song! (Note from Dayle: "A Bruce Swerling favorite.") It felt weird leaving that day and I was a little emotional. We didn't know what would happen or when we'd see each other again in real life. Three days later, Dayle and I were back in the office – working like nothing had happened! I just think it was funny that we got all worked up for nothing really. But at the time we just didn't know.
What are your hobbies?
Reading (via Kindle) – I just finished Howard Stern's new book about his favorite interviews, and I'm a big Nicholas Sparks fan. Tik Tok videos are currently an addiction.
What do you like to listen to on the radio?
Howard Stern in the car. And I listen to a lot of music. I'm in charge of 'wash your lyrics' in the office – every day I put up a new song for people to sing so they know how long they're supposed to wash their hands.
What's your favorite sports team?
I'm not really happy with Boston sports teams right now. Tom Brady and Gronk are in Tampa Bay, and Mookie Betts is in LA. It's hard to feel good about that.
What's your favorite restaurant?
Once a year we all go to Mistral in Boston – that's my favorite. On a regular basis, my boyfriend and I like the 99.
What's your favorite meal to cook?
Red gravy and chicken cutlets.
What was the worst fashion trend you participated in?
Big hair and pegged pants.
How do you motivate others?
Mindi says it's by having a calming presence. I just try to keep things going, maintaining a very level approach. I find it helps those who might get a little active.
How do others motivate you?
By giving me tasks that I'm not sure I can do. They say – 'yes you can.' We know each other's strengths and weaknesses here, that's for sure.
What do your colleagues say is your best quality?
I hope they'd say that I'm a team player. I try to pitch in and help get things done – whatever is needed. One time, after the guys left for a big job in St. Maarten, their phones weren't working. Diane and I had to get through to them to make sure everything was ok. We stayed late here in the office until we knew.
Can you name a time when you did the right thing and nobody saw?
I was at Stop & Shop and found a wad of cash in an aisle – several hundred bucks. I brought it to the service desk. An older woman ended up claiming it and was really happy to get it back.
What's your favorite vacation spot?
I love the Cape, especially the beaches. I used to nanny for a family in Yarmouth. I love Seagull Beach.
What's your daily attire?
What I'm wearing now – jeans and a black shirt.
What's your favorite tv show?
I just binged Schitt's Creek, which was really funny. And I'm a 90-day Fiancé addict.
What's your favorite picture you're ever taken?
Anything involving my nieces and nephews. Anything they're in is my favorite.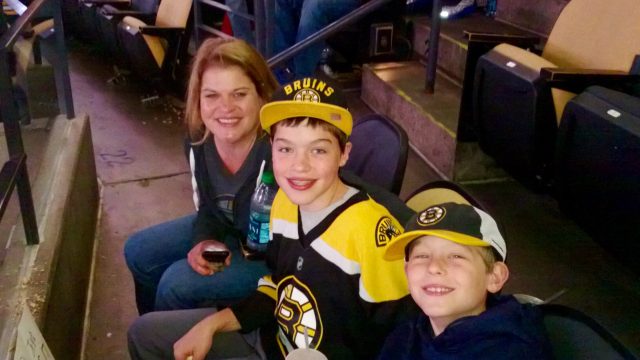 If you could have any superpower, what would it be?
I wish I could snap my fingers and be anywhere in an instant. That would spare me from commuting, which I don't like.
If you could pick a new first name, what would it be?
I'm named after my mom, so I wouldn't pick a new first name.
Who is your celebrity crush?
Rob Lowe.
What's your favorite holiday and why?
Christmas, because my whole family gets together. I love to see the kids and the gifts. On Christmas Eve we go to my brother's house – it's a big party. On Christmas day it's more intimate. I love my family – we have a great time.
How do you maintain a healthy work-life balance?
For me, it's kind of easy because (in normal times)I'm an 8-4 worker. I'm not an adjuster, so I don't have a lot of intrusion on my weekends and other random times.
If you were stranded on a desert island, what 3 things would you take with you?
Music; my Kindle; and Rob Lowe (so we could read books together).
What 3 things have been invaluable to you during the COVID pandemic?
Dayle, Tik Tok, Dayle
Do you have any pets?
I have a cat named Lexi. She has also been invaluable during the pandemic.
What's your favorite SMW memory?
There are so many. A funny one to me is the time Jimmy Harlor moved Jeffrey's car in the lot so he thought it'd been stolen. We all like to play practical jokes on each other – like right now we've turned Adam's office into a jungle with the office plants!
What have you missed the most during quarantine?
Getting together with people. Seeing family and friends.
What's your favorite movie?
I do love Dirty Dancing.
What are your pet peeves in the office?
I hate when people take the last of something and don't let me know – like the paper towels. Or when someone puts the paper towel roll facing under – when it's supposed to go over! And I hate spam calls – they happen all day long.