Whether you're a commercial business owner or a residential homeowner, your property needs protection. You want exactly the right insurance coverage to protect your assets against unexpected weather and other catastrophic events.
How do you ensure that you have exactly the right coverage? In the first installment of this two-part blog post, we examined the function of Replacement Cost Coverage and discussed the value of including Code coverage in your policy. In this second installment, we'll help you understand "Loss of Use" and "additional living expense" coverage, as well as coinsurance and what you need to do to get paid promptly and completely for your claim.
Ask the following questions when you sit down with your insurance agent to discuss your coverage. The answers will help you understand critical coverage elements that are sometimes overlooked or misunderstood.
WHAT AM I ENTITLED TO UNDER MY "LOSS OF USE" AND "ADDITIONAL LIVING EXPENSE" (ALE) COVERAGE?
These are two very important provisions to understand because your policy should ensure that you can "maintain your standard of living" after a loss. At the same time, your insurance agent may have limited understanding of your particular housing needs. If you have a 5-bedroom house on a quiet cul-de-sac that is very close to your kids' school and other activities, that's incredibly valuable to you. If you lose use of that property because of a catastrophe, your coverage – which is time-limited – kicks in. Based on that housing profile, it would be unfair to receive a temporary replacement that is a 3-bedroom house on a busy street 15 miles from school. Moreover, if it's a big enough loss, 12 months of coverage under your insurance policy may not be long enough.
Your agent – or your public adjuster – can explain that loss of use coverage is an actual incurred coverage, based on documented actual expenses (usually in the form of receipts and cancelled checks). The insurer will pay you any additional expenses you incur above and beyond your normal living expenses. Your agent or adjuster should also explain that once a building settlement figure is reached, the "clock starts ticking" with this coverage. Repairs should begin as soon as possible after the building check is received. Any improvements affecting the time of repairs and delays on your part to commence repairs will not be covered.
HOW DOES COINSURANCE AFFECT THE AMOUNT OF THE LOSS THAT'S PAYABLE?
This applies to the commercial setting only – the homeowner equivalent of coinsurance is a topic for another post – and it's an area rife with confusion and misunderstanding. Your agent can explain why premiums are lower when you have co-insurance. In exchange for this reduced premium rate, you (the insured) agree to carry insurance at least equal to a specified percentage of the replacement value of the covered property. But be forewarned: coinsurance can greatly affect the amount of the loss payable, as demonstrated in the following example: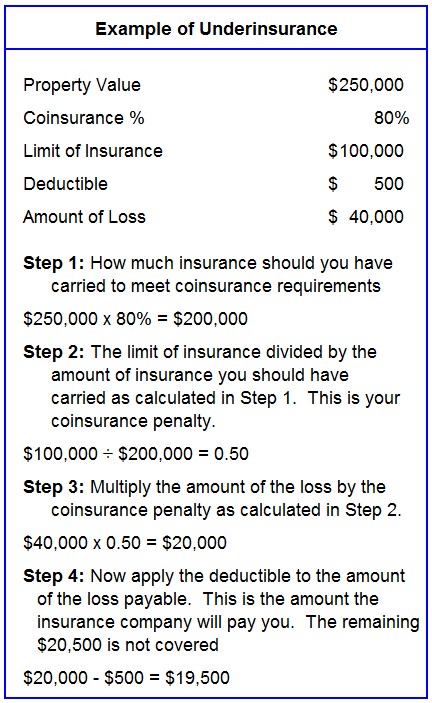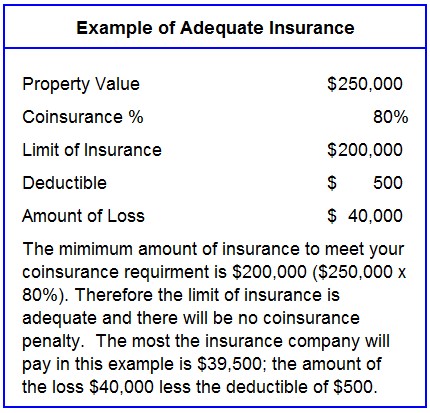 If coinsurance is right for you, ask your agent to ensure that you are not under-insured.
WHAT IS THE PROCEDURE FOR INSURANCE CHECK ENDORSEMENT AND DISBURSEMENT?
If you have a mortgage on your insured property, the mortgagee will be named on the building portion of your insurance settlement check as the insurer must protect the rights of the mortgagee.  Therefore, it becomes your responsibility to have your mortgagee sign off on the check.
Your insurance policy should include the names of "mortgagees" – banks or other financial institutions with whom you have a mortgage for your insured property. Thus, when you seek recovery, any building checks from your insurance company will be made payable jointly to you and to your mortgagee(s).
But…what if your original mortgage gets sold to another financial services institution? It happens all the time – one mortgagee sells a book of mortgages to another mortgagee. Sometimes you don't even notice – and your insurance agent won't know if you don't advise them of it. When this occurs, the mortgagee's name on your insurance policy must be changed. If you don't realize the mortgagee has changed until you're in the middle of the claim, how do you endorse the insurance check that gets sent to you if it doesn't even have the right name on it?
To release that money, there is a process. Your bank (who owns your mortgage) should explain the appropriate procedures you must undertake for insurance check endorsement and disbursement. Understanding this process in advance can greatly expedite payments and work during the repair period. Because the lender has the right to hold insurance proceeds, it may disburse for repairs and restoration in a single payment, or in a series of progress payments as the work is completed.
Don't be shy – ask away!
Remember – you're not asking these questions because you don't trust your insurance agent. Rather, you're asking them because you want clarity and full mutual understanding of what your respective duties and obligations are. Taking the time early on to get a grasp on these key issues will ensure that your insurance claim – should it ever take place – proceeds smoothly and expeditiously.