The little known "Civil Authority" provision has received much attention of late – especially in connection with the Sept. 13 gas explosions in Lawrence, Mass. This critically important coverage provision is designed specifically for situations where people are forced out by police, fire or inspection services – or any similar "Authority" – due to a catastrophic emergency.
What exactly is Civil Authority coverage?  It's a provision within most insurance policies.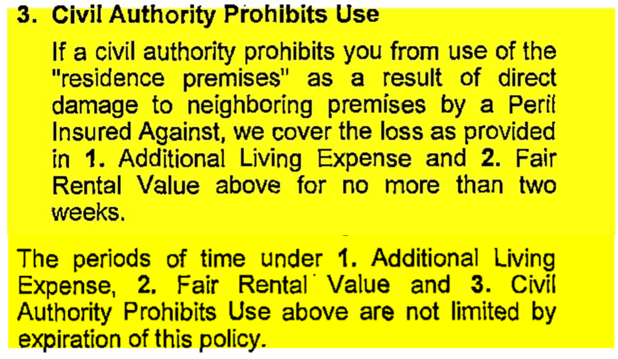 Note the language regarding the Civil Authority Prohibits Use section –  Your residence must be one of the neighboring premises and those premises must be damaged by a Peril Insured Against, such as fire or explosion.   Therefore, if you are unable to enter your home because of the recent gas explosions that occurred in Lowell, Andover and Lawrence, this coverage would only apply if one of the damaged properties was a neighbor of yours.  If your residence was not one of the neighboring premises to a home that had a fire or an explosion, then the coverage would not apply.
We have been made aware that a few insurance companies are allowing their policyholders to file for this coverage, even though they are not located next to neighboring premises that were directly damaged due to an explosion or fire.  These insurers are going above and beyond for their clients and providing coverage that really does not exist under the insurance contract.
Commercial Property Coverage Form (CP)
The Business Income (and Extra Expense) Coverage Form CP 00 30
Civil Authority coverage in Commercial and Business policies is completely different from Civil Authority coverage in homeowner's policies.  The language reads in part, "We will pay for the actual loss of Business Income you sustain and necessary Extra Expense caused by action of civil authority that prohibits access to the described premises due to direct physical loss of or damage to property, other than at the described premises, caused by or resulting from any Covered Cause of Loss."
You will note that in the Commercial policy (CP 00 30), the qualifying language for coverage is not related to the distance the business is from the direct damage – only that the business cannot be accessed, and that an authority having jurisdiction does not allow the property to be occupied or opened.
The coverage starts 72 hours after the direct damage occurs and the coverage is for a maximum of 3 consecutive weeks.
An example of this coverage took place during the marathon bombings.  Several businesses near the event were shut down even though they had no direct physical damage to their locations.  The authorities cordoned off streets and did not allow businesses to open for several days, even weeks.  These businesses that were closed solely due to the closing of the streets would have been able to collect their loss of business income for a period of up to 3 weeks.
Businessowners Coverage Form (BOP)
If your business has a Businessowners policy as opposed to a Commercial Package policy, then the Civil Authority coverage has some minor differences.  First, the described premises must be located within one mile of the damaged location.   Secondly, while there is a 72-hour deductible (just like the CPP), the coverage duration is for up to 4 weeks and not 3.
What is covered?
In the homeowner's policy, Civil Authority coverage is for loss of rents, fair rental value and additional living expenses (i.e. hotel, food).  For business and commercial policies, it is for business interruption and extra expense.
Please be advised that the policies quoted above are specific policies and the verbiage in several policies can be different.  If you have specific questions about this coverage, SMW will gladly review your individual policy and make recommendations.  We can be reached at 781-416-1000