1.     What's your favorite part of the job?
I like that the job is always changing.  I enjoy meeting new people, and being in new places.  It's nice that I'm not always at a desk.  I tend to be a very regimented person, and this job forces me to mix things up and deal with unpredictability.  Most of all, I like that it requires me to be competitive.  Every day I have to compete.
2.     The competition on the street – what's it like?
As a solicitor out on the street, we try to stand apart.  We really do hold ourselves to a different standard, so we use an approach in which we make initial contact and then we try to distance ourselves a little bit.  Most solicitors push hard for a sale, but I believe that what people really respond to is honesty.  So, I'm upfront with them.  I acknowledge that they are in a really tough situation – I mean, their property just had a catastrophic event – and I explain that I can make it better for them.  Other solicitors get pushy with the 'sign here' approach.  I use the SMW approach, which is to say 'hey listen, don't hire anyone – us included.  Take your time, be smart, and call knowledgeable people to get advice.  They can tell you firsthand: get references and THEN make a decision.'
3.     How has the competitive landscape changed since you first started?
When I first got licensed, I'd arrive at the site of a property loss and would typically see one or two other solicitors vying for the business.  Now, I usually encounter many more – sometimes dozens.  So, we're being lumped in with a bigger group, which makes it harder to make a good first impression.  That's one of the reasons I tell property owners to take their time.  That's the biggest change – there are so many more solicitors on the scene.
4.     How is it working with your father?
It's great – it really is.  My dad is a legend – even his competitors will tell me that.  To have that exposure, and to have him be my father, is a great thing.  It's one of the things that makes our relationship great.  It's a unique job, and since we're having this shared experience, it's great to have someone who understands the day to day.  When I'm chasing a loss for 4 days and don't get the job, he understands and can give me the right motivation for the next opportunity.
5.     What was your first job?
When I was 15 years old, I had a job stripping roses and delivering flowers for a florist in my hometown.  Then I was a short order cook.   And one summer I dug pools by hand – that was a good one.  I also coached the varsity lacrosse team at a private school in Florida.
6.     Who trained you?
For solicitors, it's sometimes a 'throw them in and let them swim' approach.  They give you a pager and tell you to go get some business.  A lot of it is feeling your way around and learning as you go.  My dad obviously helped me a lot.  Bruce Swerling taught me some tough lessons that serve me to this day.  And Diane was definitely integral in showing me the ropes as well.
7.     What's the most challenging part of the job for you?
The emotional ups and downs can be tough.  I'll chase a loss and think we're getting the business, and then out of nowhere the client picks someone based on a family or other connection.  You have to get accustomed to rejection.  Sometimes people are rude.  Then again, even that can lead to success. When you're outside a major building fire it can be complete chaos and people are frantic.  If you can bring calm to an otherwise completely chaotic scene, you can turn the challenges into success.
8.     What's the most memorable or most rewarding loss you've handled?
I've had a number of hard clients.  But it's great when I see someone who appreciates how we helped them move back into their beautiful home.  A Sherborn family we just worked with is over the moon.  We're helping people get to a positive outcome and they become fans.  I still have past clients call after 10 years, and that feels very rewarding.
9.     What are your hobbies?
I like to work out – I'm very disciplined with that.  I spend a lot of time with my wife and kids.  I like to socialize with my friends – we have a close-knit group.
10.  What's your favorite sports team?
Red Sox
11.  Favorite Food / Restaurant?
I'm a meat & potatoes guy, so I like to get a nice steak at The Capital Grille.  Mistral is a favorite, too. And I'm always up for wings at Buff's Pub.
12.  What's the worst trend you participated in?
Fluorescent clothes.
13.  How do you motivate others?  How do others motivate you?
You have to drive yourself.  If you want to be the best, you have to work for the best.  You can't tell someone to do something and not be willing to do it yourself.  My family is my motivation.  I want them to have everything they need.  When I was younger, I was motivated to make my father proud.  I just wanted to be the 'mini Winnie' in the PA world.  You also have to get yourself in the right state – what my favorite motivational speaker calls "the right emotional arena".  When you pick up the phone and your emotional state is bad, people notice it.  I try to take a second and get my mind right.  I get laser focused at a solicitation, for example, and it's because of that preparation.  You have to elevate yourself.
14.  What sort of things do you do to get an edge in your career?
I practice and hone my craft every chance I get.  My wife gets mad because I'm very outgoing and I always talk to people.  I talk to everybody to learn about different personalities – that's my business. Once I get them engaged, I feel like I can sell them.  I try to be very observant – that's an advantage.  I find it helpful to understand people's personality type and be able to engage with them on a personal level.
15.  What top 3 things have you learned that can help other people?
The number one thing is honesty.  When you're talking to people, they don't want to be sold.  So, don't skirt the issue — just be honest and straightforward with them.  Next up is confidence.  When people are hiring or seeking advice, they take notice if you're confident in what you're saying.  The final thing is humor – everybody needs laughter.  If you get them to laugh, you have made a connection.
16.  What would your best friends say is your best quality?  What would colleagues say is your best quality?
Loyalty and humor.  And punctuality – I'm always on time.
17.  What's your favorite vacation spot?
Aruba – it leaves nothing to chance.  Perfect weather all the time, easy flight, and totally beautiful.
18.  Favorite TV show/movie?
Life Below Zero – I like how they live self-sufficiently off the land.  I like Breaking Bad.  And I love all Sylvester Stallone and Wesley Snipes movies.
19.  Do you like Audio books or reading books?
Reading – and only hardcover.  I like having the book in my hand.  Most recently, I read Don't Split the Difference – a book on negotiation strategies.  Others I've read lately include I Hope They Serve Beer in Hell and Dude, You're Gonna Be a Dad.
20.  What's your favorite picture you've taken?
My daughter and I go canoeing a lot.  I snapped a photo of her in a serene lake in Framingham.  She's eating her Dunkin' Donuts egg & cheese sandwich in the front of the canoe.  Adorable.  I also have a few of the Christmas tree I dumped on my cousin's yard.  My daughter and I do it every year as a prank and take pictures.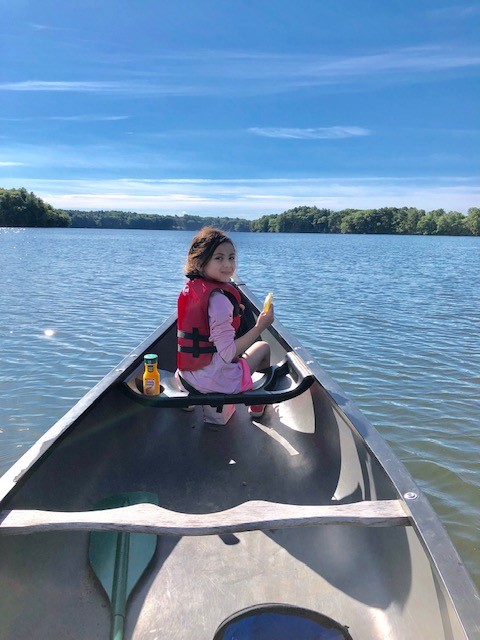 21.  If you had a superpower what would it be?
I would love to fly because I hate driving.  Maybe mind control – like that character in X Men who could touch someone and convince them of whatever she wanted.  But Batman is my favorite superhero of all time.
22.  If you could pick a new first name what would it be?
Ringo.
23.  Who is your celebrity crush?
Emmanuelle Chriqui and Blake Lively.
24.  How do you maintain a work/life balance?
I have a very understanding wife.  She's very business-minded, so she understands when I have to work.  Other solicitors might be conflicted; my wife is always supportive.  When I'm not working, I'm with my family.  I'm extremely close with my kids.  So, for me, having them is a delight.
25.  What trait are you most proud of in your children?
Their humor and their kind nature.  My daughter and son always try to help seniors and other kids. They're naturally helpful. They have compassion for others, and humor.  They're also very motivated – natural-born salespeople, both of them.  They will sell you the shirt you're wearing.
26.  What's your favorite dessert?
Lemon meringue pie.  And Ketel One, on the rocks with an orange wedge.
27.  If you were stranded on an island, what are 3 things you would want with you?
 1. A lighter 2. A knife 3. Soap (I like to be clean.)
28.  What top 3 things for quarantine?
1. Ketel One 2. Comfy hoodie 3. Soap