Specifics.  Details.  Invoices and receipts from years past.  Document everything!
These are the top-line lessons to learn if you're dealing with an insurance claim related to a property that is "burnt out of sight" (BOS) – that is, with the building and personal property completely destroyed by fire (see picture).
I was recently reminded of these lessons.  I flew to Los Angeles last month just as wildfires tore through much of both northern and southern California.  I walked on the roof of my hotel and could smell smoke from the fires still raging up in the hills.**** The burn was so close that my eyes were watering, and the local news was filled with reports of the blaze.  Soon homeowners were evacuating, and they filled all the rooms in the hotel where we were staying.
It really brought me back.  Two years ago, I was hired to handle a southern California-based property loss under very similar circumstances.  A wonderful married couple had lost their dream home in Ojai to the wildfires of 2017, and needed help managing their claim.
This was a truly extraordinary property – highly selective care went into the building design, construction materials, and most of the personal property.  Despite the high value of the personal items, the insurance company was offering an up-front payment to the couple of 75 percent of the policy limit.  Beyond that, the couple had to prove their loss to secure the remaining 25 percent.  This required them to list each and every item of personal property and document its replacement cost.
They needed help.  As often happens in such cases, where the emotional and other turmoil is so high, they had waited a while before mobilizing.  They hadn't done anything with the personal property claim.  By the time they contacted me, nearly 18 months had passed since the fire.
When I flew out to meet them in LA, we worked straight out for several days.  The couple needed a plan for organizing their information and a strategy for gathering the other documentation required to optimize claim recovery.  For the next 4-6 weeks, we worked to re-create EVERY ITEM they had in their house.  They provided a home movie of the house from before the loss, and that assisted in documenting lost items.
Right now, the claim is up to $1.5 million, which is a sizable contents claim.
These lessons are worth remembering.  If you have a burnt out of sight claim, you need to document every detail of your personal property.  Get purchase receipts from years past, or find similar comparable items.  Only if you document EVERYTHING can you optimize your recovery.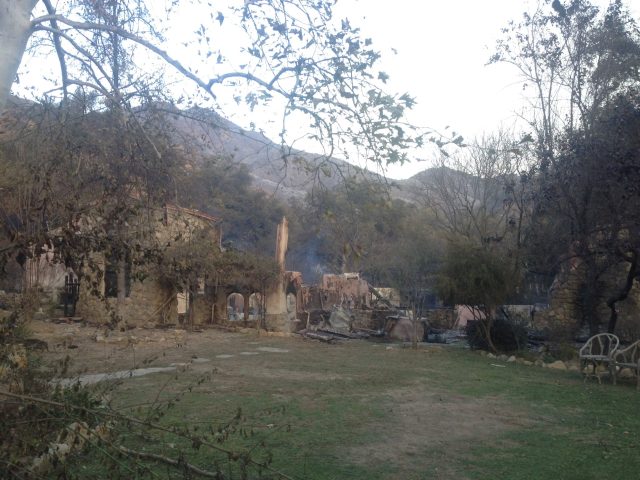 We know from first-hand experience how emotionally draining it can be to lose the house of your dreams.  We can help you get the recovery you deserve so you can start fresh and re-create that dream again.
Watch for future posts in which we'll discuss how SMW handles these types of building and personal property claims.
***** A wind-driven brush fire carved a devastating path in the northern foothills of the San Fernando Valley in October, chewing through 7,500 acres, burning at least 31 structures, including homes, and forcing thousands to flee.
The Saddleridge fire, which broke out about in October on the north side of the 210 Freeway in Sylmar amid strong Santa Ana winds, spread rapidly westward into Porter Ranch and other communities.  At its peak, the blaze was moving at a rate of roughly 800 acres an hour.