The clients featured in this blog are well-known fixtures in Boston's storied Beacon Hill neighborhood. They are parents and business owners, and have broad experience in managing the various surprises life can provide. When their historic townhouse on Beacon Street went up in flames one summer night several years ago, they knew to call SMW. Below is a conversation we recently had with this client about their insurance claims process.
SMW: How were you introduced to SMW?
Homeowner: Back when my wife and I owned a Hotel and Bistro, we had a water loss. I knew nothing about the insurance claims process, and my insurance agent recognized that I would be better served having my own expert. She gave me one name – Swerling Milton Winnick. I dealt with Bruce Swerling, and he guided us through the entire process. Most importantly, SMW helped us capture lost income – which I couldn't have done on my own – and that helped us stay solvent through what turned out to be 4 or 5 months of reconstruction. I thought it would last only 1 or 2 months. But of course, it took longer than expected.
SMW: What happened the night of your house fire?
Homeowner: It was a summer night, and I had just dropped my wife off at the airport. I was walking across Boston Common by the movie theater. My daughter called and told me that the TV and lights in part of the house turned off by themselves. I realized that was a circuit that has never turned off for any reason. I told her to take a walk around the house and smell for smoke. Suddenly, the alarm started going off in the background. When we owned the hotel, I was essentially a building manager, so I knew that sometimes it's a false alarm. Instead of going crazy, I told her to go to the alarm panel and tell me what it said. It said: '4th floor smoke'. I told her to grab her friend, her brother, our dog and get out. I was now running back to the house at a full gallop. I was at the corner of Beacon and Charles and I could see smoke coming off the roof. It was a scary moment. I ran across the street, and entered the house just as my daughter and her friend were putting on their shoes and leashing the dog. Then I found my son, who was in the top floor bathroom, pointing up and telling me he thought the fire was in the ceiling fan. Well, it may have started there, but everything above it was on fire. So, we left the house and called the fire department. They arrived within 5 minutes.
SMW: How big was the fire?
Homeowner: It was a 4-alarm blaze. Moreover, because we own a townhouse connected to other historic townhouses, they had to really douse our place with water to ensure there was no spread. That's a worst-case scenario from the fire department's point of view. We were sitting on the steps next door, and the professional vendors were starting to show up – restoration, demo, etc. At that time, I wasn't even thinking about who to choose for what. I wanted to take my time in figuring everything out. I do remember I said yes too quickly after the hotel fire. In that case, we had water in the basement, and the restoration company was pushing to cut out the walls, just so that they could replace them later. The same company was selling services at my house fire. This time around, I wanted to take a moment.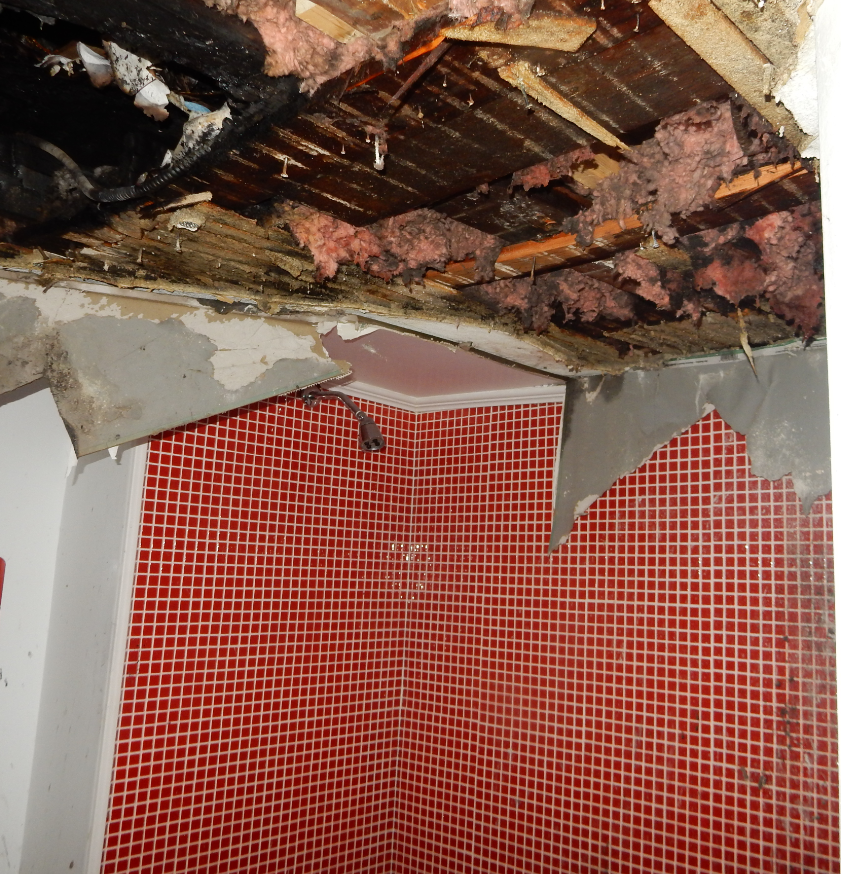 SMW: Did you think about a public adjuster?
Homeowner: I knew I would go with SMW. I spoke to Adam Swerling. In his usual reassuring manner, he assured me everything would be OK. SMW started working immediately. We had a pretty good policy with Amica, and I'm happy with how it turned out – especially because of the work SMW did. I know it would have been too much for me to take care of all those details. We ended up living at the Taj (the old Ritz) for 10 days, and then moved to the Union Park in the South End for 9 months. After that, we had our first experience of living in a modern luxury apartment building in Chinatown. We could see our house from the window.
SMW: What about the impact – you have 3 kids, a business, the insurance claim – what was going through your mind during the blaze?
Homeowner: My first thought was: What am I gonna tell my wife? A friend came over on his bicycle from the South End. I asked him how he knew about the fire. It turns out my son had taken a photo of the fire engines and posted 'Our house is on fire LOL' on his Facebook feed. I don't do social media so I would never have known. He had also sent a photo to my wife. She was about to land in Iceland before going to Stockholm. So, she saw the photo right before I called her. The fact that we had been through something like this before, and had the help of SMW, made it easier. It's just managing a situation with a really good team around you. I told her to continue her vacation because we had it handled at home.
SMW: What changed after SMW's involvement?
Homeowner: The first thing that happened was Adam brought people to test aspects of the building. There was water damage everywhere because they pumped huge amounts of water to extinguish the flames. The house was constructed in 1828 with horse-hair plaster and other period materials. Those walls just absorbed all that water, so the integrity was compromised. SMW brought in people to assess the damage and determine what needed to come out and what could be preserved. Dayle (Swerling Burke) assessed all the personal property, which is something that I could not have done. I'm good at big-picture work, but not so great with the details. That would have been too much for me to do – cataloguing every item, identifying whether it's in good shape or not, brand names etc. It turns out we had a lot more stuff than we realized. Off-loading that job was huge. We even got value for my old vinyl record albums, which were up in the attic and largely forgotten. Cataloging items and assessing related values was just a huge – HUGE – amount of work. I was able to help by doing some research, but pulling it all together and packaging it the right way – that was handled expertly by Dayle.
SMW: Can you tell us about the process of the rebuild?
Homeowner: I quickly started making inquiries on contractors to help rebuild. We had initial notions from Amica regarding what they thought it would cost. Their estimate was about 1/3 of what our final claim was. In the end, reconstruction cost more than $1.5 million. That amount does not include our living costs, which SMW made sure we got money for during that period. Then there's laundry, belongings stored off-site, etc. The entire claim, in sum, was more than $2 million. I was astonished by how much money was paid out by Amica. The reconstruction got to the point where it was a total gut rehab. At that stage, you have a blank slate and you're not beholden to everything being the exact same as it was. That allowed us to make improvements. It was shocking to realize how much had to come down. We had these moldings that were 14-15 inches in the corners, and they all had to come out. We had to make decisions on whether or not to replicate everything. We ended up making our home more modern in design.
SMW: How was it dealing with a traumatic fire etc., and then having to find contractors? What was that process like?
Homeowner: That was probably my least favorite aspect of this whole thing. Most contractors coming through, they see we're on Beacon Hill, and they price bids accordingly. They take for granted that there will be insurance, and they assume there are bottomless reserves to pay the difference. That was frustrating, because you expect people to be businesslike – they often didn't respond when they said they would. There were really slow turnaround times, and the numbers kept going higher. We finally found a family-owned firm – Artizan Construction – they are hardworking, honest; very much a family-run company. They had strong relationships with their subcontractors – including the best tile guy you'll ever meet in your life.
SMW: On the building side of things, how was that experience?
Homeowner: When I met Tony Scarpellini, he just had such great command of the situation, right from the get-go. He's a former contractor, and he engendered respect from everyone: inspectors, engineers, builders, as well as the insurance company. He was able to get a lot accomplished. Going from $500K to $1.5M – that's a reflection of Tony's work. I'm happy with Amica and how they treated us. The responsibility went to the fan company, and Amica was able to subrogate – so the deductible came back to us. They were a great insurance company to work with. At the same time, they are in the business of making money. So, they naturally started out at a lower level. That's where SMW really helped. Also, we received the totality of the 10% kicker for code upgrades – and that was Tony, staying on top of records and itemizing anything relating to code. Many contractors don't love doing the paperwork, so Tony staying on top of them made the difference in getting all that 10%. That brought us all the way to $1.6M.
SMW: Any other areas that came into play?
Homeowner: Yes, we also had an income-producing rental unit in the house. We had been doing Airbnb. Mindi (Labella) put together a plan to account for that, and convinced Amica to accept it. So, we received all the lost income we would have made on the rental unit. Mindi worked with the insurance company and ensured we were compensated for that. The fire took place just before Thanksgiving, and we had family coming to visit. That unit was something we utilized when family would come for holidays and spend a few extra days in Boston. The fire put a total end to that, obviously. I went to Dayle and explained that my family had already purchased plane tickets to come to Boston for Thanksgiving. The whole family gets together – what are we going to do? My own family was in a very nice rental home on Union Park, but it was about 2,500 square feet – not big enough to accommodate our entire extended family. Dayle arranged for the insurance company to pay for 2 rental apartments, so my family could come here and be comfortable. Amica initially pushed back, but SMW assembled the paperwork and evidence that the family had already made reservations (before the fire). That made the difference in our family getting rental costs covered. That was a good win.
SMW: What would you tell other homeowners or businesspeople who suffer a property loss?
Homeowner: Number one – you don't want to do this alone. It's already enervating and demoralizing to have to deal with that. And with a family, you have all the kids' feelings. You need someone on your side – a real team that has experience. For me, SMW was fantastic. They've helped me twice, and both times they were outstanding. It really gives us confidence to know we have advocates on our side. So much so, that we recently purchased a vacation home on a barrier island in South Carolina. I wouldn't have had the guts to do that if we didn't know SMW would help us in the event of a catastrophe. In an area that does have some risk, it was reassuring to have the confidence knowing I could count on SMW for anything insurance-related and it would get taken care of.
SMW: What was your family's reaction coming back into the home and seeing the renovated space?
Homeowner: It was a great feeling. The fact that the house turned out the way it did make it feel like it was somehow all worth it. You never plan for something like that, and you can't expect it. This is a common theme during COVID – if you get lemons, you make lemonade. The house fire turned into a positive for us. Not wishing this on anyone else – having a fire or property loss of any kind– but it's hopefully reassuring to understand that on the other end it can turn out worthwhile. That's a great feeling. We took advantage of the chance to live in other parts of the city – that was a fun experience, almost an adventure. Yes, we were in a situation that was difficult. But it turned out to be very positive for the family. Then we ended up back here. All's well that ends well.
SMW: Any lessons learned?
Homeowner: Fans can be more dangerous than you'd imagine! Much of what happens in life, we cannot control. But there are moments when you make decisions that allow you to deal with things. Once you're on your way, the key is often going with the flow a little bit. And you can't fight Mother Nature.