What was your major in college?
I majored in Accounting (shocking, I know). I knew that was for me because as a high school sophomore I took an accounting class – it was really just bookkeeping – and I absolutely loved it. I just really liked how everything would end up all neat and orderly. I even looked forward to doing the homework.
What was your first job?
During my high school years, I was a bank teller at the drive-up at Northwest Community Bank. I would go there after school – before I could drive. I'd go to the locker room and change into my business attire while all the athletic kids were changing into their sports uniforms. After that, I moved to People's Bank, and I worked at the Shaw's supermarket when I was a college sophomore. Then during my senior year and during grad school I was a Customer Service rep at Watertown Savings Bank.
How did you end up in the insurance industry and SMW?
After college and graduate school, I interviewed with a reputable firm for a position doing forensic accounting. I was there for 3.5 years. Then Bruce Swerling called and asked, "What do you think of depreciation as a saved expense?" I answered him, and he hung up. Bruce called back and said "I'd like you to come over and do the BI claims at SMW." He had already talked to the partners at my current job. They told me it was a great opportunity.
Who trained you?
Bruce trained me on the PA side. I came in with good experience on the accounting side. I remember the first time he had me do a Proof of Loss – and I didn't know what that was.
How do you apply your CPA skills to your role as a public adjuster?
It's stimulating working with different businesses – they're all unique in their own ways. I find it interesting how each business keeps track of their records and sales. Some do it better than others – some definitely are not accountants. Understanding how people do it and getting the info to translate to the insurance company as part of a claim is where I add value – I bridge those two together. I like being able to explain the insurance side of things. I try to understand the challenges from the other side and pre-emptively head those off – that helps the process go more smoothly.
What's your favorite part of the job?
I like helping people who don't understand this side of the business. They might be able to run a multi-million-dollar facility, but they don't necessarily have expertise in insurance, and moreover, accounting in insurance. In return for providing that service, I get to learn about their business.
What's the most challenging part?
The insurance adjusters, and trying to get the other side to understand where we're coming from on a claim. I try to get them to focus on what I'm telling them in a way they can understand. But they don't always get it.
What's the most memorable or most rewarding loss you worked on?
There was one that was definitely a teaching moment. I worked so hard on it. It was my first experience learning that, no matter how hard you work, sometimes the payoff is elusive. No matter what you do, sometimes it's just not a winner. Another time, I went to my first house fire in Weston. These poor people had lost their dog. We were in the car with the husband and wife, and I started crying when I heard about the dog. Afterwards Diane said, 'You can't cry!' We've got to hold it together when these homeowners are going through a devastating time.
What are your hobbies?
I like to cook. I enjoy hanging out with my family – even though they drive me insane. My son, Luke, is way into 'movie night' right now, so that's a fad. John and I love wineries. Rombauer in Napa is a fave.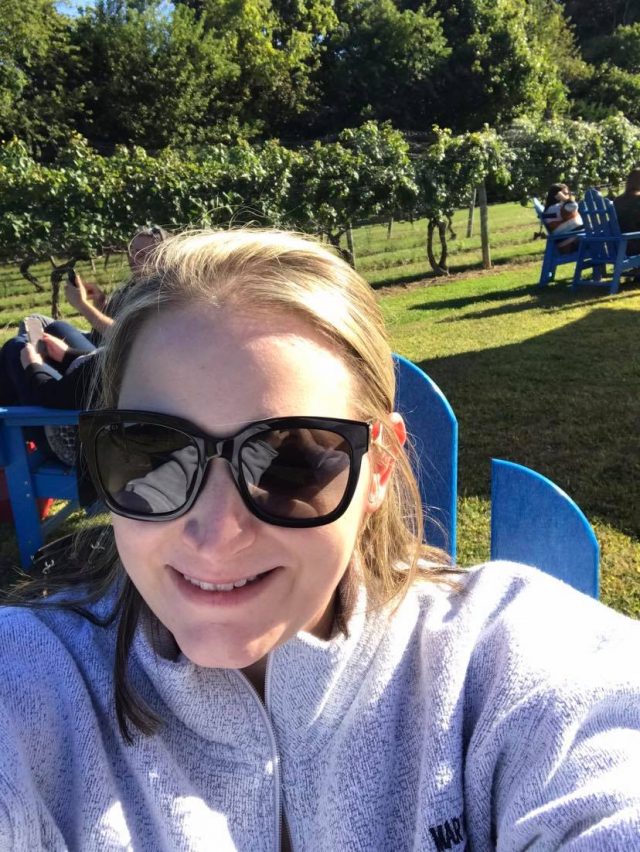 How did you get so good at Excel?
At my old company, we used Excel for everything. The other staff accountants would tell me – 'if you're taking a long time to do something, we know a better and a faster way.' Watching them work at it was a real lesson.
What's your most accomplished Excel feat?
I like when I get a bunch of raw data and am able to turn it into a detailed analysis.
What's your favorite sports team?
I'm such a "pink hat" it's not even funny. My husband is a fanatic – he watches it all and does fantasy for every league. I'm so out of the loop.
What's your favorite food / restaurant?
I like seafood, so anything from the sea. Restaurant – if John and I get a date night – it's Artichokes in Wakefield, or Gibbet Hill in Groton.
What's the worst trend you participated in?
Back in the day, I had the stirrup pants and the oversized shirts. I remember shopping at JC Penney and looking for those – that's all I wanted.
How do you motivate others?
I like to think I give my co-workers support, especially if they don't believe in themselves – allowing them to try it and explain to them where they're failing. Sometimes it's a small thing that's not working for them, and all it takes is a tweak to succeed. For me, motivation comes from a challenge – someone telling me I can't do it.
What would your best friends say is your best quality? What would colleagues say is your best quality?
Friends say I'm always there for them. If they have a problem or question, I am an open sounding board who will provide sound feedback. I hope my colleagues will say I'll drop anything to help them.
Name a time when you did the right thing and no one saw.
I was going to the bank one day and a little old lady with her walker was outside. She asked where the nail salon was, and I told her it was up the hill. When I came out of the bank, I gave her a ride so she wouldn't have to walk all that way.
Favorite vacation spot?
Anywhere that's not home. We love San Francisco and Napa. The kids love New Hampshire. I just like to be somewhere that's not my everyday location. My dream vacation is Europe – probably Italy first.
What is your daily attire?
Jeans, flip flops and a t-shirt. My mask need not match.
Favorite TV show?
If I can put on anything, it's the Real Housewives franchise. Bethenny is my all-time favorite – she's an entrepreneur and a go-getter.
What was the last concert you went to?
Probably Hinder 10 years ago.
Do you like audio books or reading books?
Audio. It gives me the chance to listen in the car – I usually drive an hour each way – so I can often get through a book a week.
Favorite book?
A Prayer for Owen Meany, by John Irving.
If you had a superpower what would it be?
I would have the ability to stop time and re-start it – it would give me a week here and there to catch up.
If you could pick a new first name, what would it be?
I'm content with Mindi. I'm basically glad I'm not one of those people who have to use their last name or an initial because their first name is so popular. And I like that the "i" at the end makes it even more unique.
Who is your celebrity crush?
Bradley Cooper.
How do you maintain a work life balance?
My husband – he's the yin to my yang. Nothing ruffles his feathers (except for me). He picks up where I leave off and keeps things moving.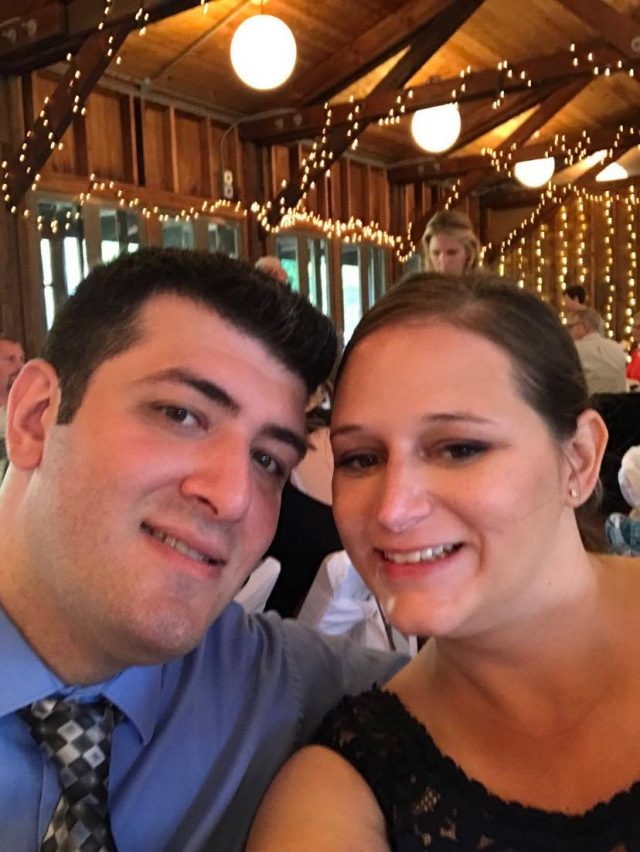 What trait are you most proud of in your children?
Luke is very loving. He's always telling us he loves us. He has a big heart. Livia is very stubborn – which I know will serve her well one day. She's much more like me.
Name your favorite in-the-office memory:
I like the day Jimmy moved Jeffrey's car and Jeffrey thought it was stolen. Then there was Kenny's retirement party – the same day Jeffrey's new phone was coming to the office. We got an extra iPhone box and put an old BlackBerry inside it, including shrink wrap. We presented it to him and were rewarded by a look of sheer terror on his face.
What are your top 3 items that are getting you through the quarantine?
1. Clorox wipes (I'm hoarding them) 2. Disney Plus (Hamilton!) 3. We bought the kids an inflatable water slide, so the backyard is now a water park where they can do whatever they want.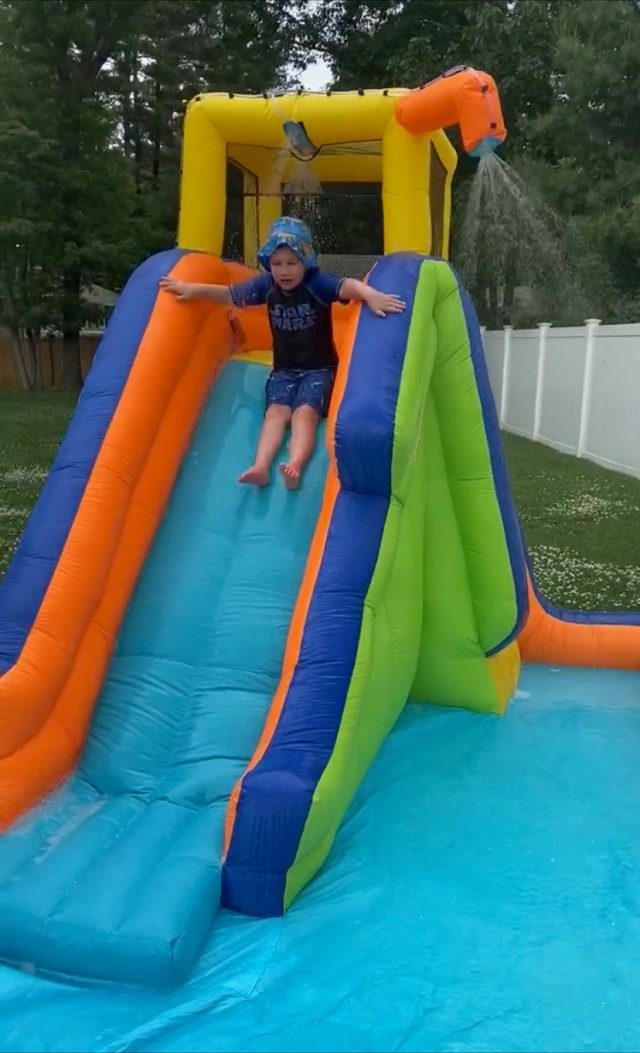 What's your go-to karaoke song?
I have never performed karaoke, nor will I ever.
What's your top pet peeve?
People who don't do things to their full potential, or who try to look for others to do it for them. Towels must be folded into thirds (I don't like to see the edges); laundry folding as a whole. I hate dishes in the sink – I hate walking by and seeing something undone that would take only a moment to do.
Pets?
We have a dog, Bentley (after my alma mater). He's my first baby.